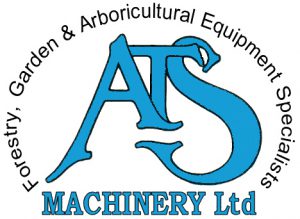 ATS Machinery Limited also referred to as ("We", "Our","Us") are pleased to see that you are interested in our website. The protection of your privacy is important to us. Below you will find detailed information about the way we use your data.
Name and contact details of the data controller (as defined under data protection legislation)
ATS Machinery Limited
Selehurst Farm
Brighton Road
Lower Beeding
Horsham
West Sussex
RH13 6NQ
Telephone: 01403 891580
Purpose of collecting, processing and using your personal data
Any of your personal data that become known to us while visiting our website, making reservations/purchase orders (hereinafter: purchase orders) or using our contact forms are treated by us in accordance with the relevant legislation on the protection of personal data; they will be used confidentially by us at all times and will only be collected, processed and used to
(a) ensure the functional operation of the website,
(b) safeguard our own legitimate business interests concerning the provision of consultancy and support for our customers and to ensure customised product design.
In addition to the above, any data you share with us through an ordering procedure or contact form will be used by us solely in order to complete and process your purchase order or reply to your request.
Legal basis for the processing of personal data
Data processing takes place in compliance with the EU General Data Protection Regulation (hereinafter: "GDPR") and on the basis of the following legal principles:
● In cases where we obtain your consent to processing transactions in respect of your personal data, data processing is based on GDPR article 6 (1a).
● Any data that you share with us in the context of purchase orders and which are required for the fulfilment and/or handling of those orders will be processed by us in compliance with GDPR article 6 (1b).
● If data processing is necessary so that we can meet specific legal obligations, then such data processing is based on GDPR article 6 (1c).
● In cases where data processing is required by vital interests of the data subject and/or some other natural person, data processing will take place in compliance with GDPR article 6 (1d).
● If data processing is required to safeguard a legitimate interest of our company or a third party and if they are not in conflict with overriding interests, fundamental rights and/or fundamental freedoms of the data subject, data processing is based on GDPR article 6 (1f).
Retention period, data erasure and blocking of data
On completion of the purchase order, your data will not be used for any other purpose and erased after the retention periods established under tax and commercial law, unless you have expressly consented to the further use of your data.
Moreover, your data will always be deleted as soon as your consent ceases to be available or as soon as they are no longer required for the purpose of data processing. If your data are no longer needed for this purpose and/or your consent is no longer available, thus removing the legal basis, but if your data nevertheless need to be stored further, due to existing statutory, official or contractual obligations (e.g. warranty commitments or financial accounting), data processing will be restricted through the marking and blocking of those data.
Log files
Whenever you visit our website, usage data are transmitted by your internet browser and stored in server log files. Records stored in this way contain the following data: date and time of call, name of site called, IP address, source URL from which you reached our site, type and version of the web browser you used, operating system used by you. Those data will be used exclusively for the purpose of technical communication and to ensure technical operation; once the use of our website has come to an end, they will be erased subject to the proviso of possible statutory retention duties. The legal bases are our fulfilment of statutory obligations concerning data security, our legitimate interest in the technical functioning of our website, the removal of malfunctions and the warranting of security.
Use of cookies
To make visiting our website attractive and to allow the use of certain functions (e.g. purchase orders), we have placed so-called cookies on some of our web pages.
When you call up our website, you are notified of our use of cookies through an info banner, which also draws your attention to our data privacy policy once more.
The legal bases for data processing with the use of cookies are your consent and/or our legitimate interest in the technical functioning and improvement of our range of services.
What are cookies?
Cookies are small text files that are stored on your computer when you visit certain websites. We use cookies to trace what you have in your shopping cart, so that we can send you contact forms and so that we remember you next time you visit our site. To place purchase orders on our website, you need to have activated cookies. If you do not wish to activate cookies, you can still search through the website, but you will not be able to send off contact forms or place purchase orders. Please remember that cookies cannot damage your computer. The cookies we create do not store any identifiable personal information, such as credit card details. We're giving you this information, so that we comply with the currently applicable legal provisions and to ensure that we respect and protect your privacy when you use our website. If you would like to find out more about cookies in general and how to manage them, please visit aboutcookies.org
Managing cookies
By default, most browsers are configured so that they accept cookies automatically. Once the default settings for cookies have been saved to your browser, all processes run in the background without you noticing them. However, you may wish to change those settings. You can usually set your browser so that you are notified of the use of cookies and so that you can decide from case to case whether to accept them, whether to refuse them in specific instances or whether to refuse them in general.
Some websites – including ours – cannot, however, be used properly without cookies, as they need certain files for their routines, such as purchase orders. To buy products, you therefore need to have activated cookies. If you do not wish to activate cookies, you can still search through the website, but you will not be able to send off contact forms or purchase products. To manage your cookies, use the guides below for the four most common internet browsers:
Internet Explorer: https://support.microsoft.com/en-gb/products/windows?os=windows-10
Google Chrome: https://support.google.com/accounts/answer/61416?hl=gb-en
Mozilla Firefox: https://support.mozilla.org/en-US/kb/enable-and-disable-cookies-website-preferences
Safari: https://support.apple.com/en-gb/HT201265
The most important cookies used on our website:
Note the following list of the most important cookies which we use, together with their purpose: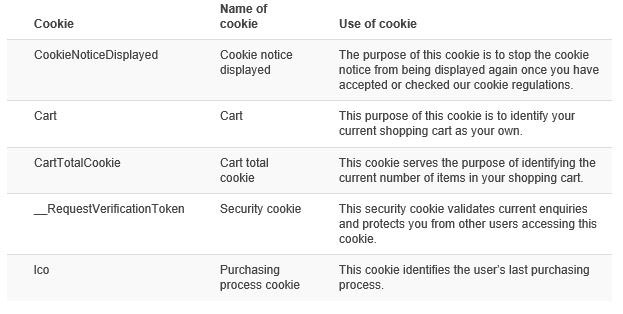 Third-party CookiesCookies are also used for the purpose of web analysis services and plugins (e.g. to share content on social media). Further details about such cookies can be found below, under the services we use for our website.
Web analysis using Google Analytics
This website uses Google Analytics, a web analysis service of Google Inc. (hereinafter: "Google"). Google Analytics uses so-called "cookies", i.e. text files which are saved to your computer and allow us to analyse the use of the website. The information that is created by cookies on your use of our website is usually sent to a Google server in the United States, where it is then stored.
However, if you have activated IP anonymisation for this website, your IP address will not be sent without first being truncated by Google within the Member States of the European Union or other parties to the Agreement on the European Economic Area. Only in exceptional cases will the full IP address be sent to a Google server in the United States and then truncated there. Acting at the website operator's request, Google uses this information to analyse your use of the website, to set up reports on website activities for us as site operators and to provide us with other services connected with website and internet use. The IP address which Google Analytics sends via your browser will not be linked by Google with any other data it may have. You have the option of preventing the storage of cookies through suitable settings in your browser software; please note, however, that this may prevent you from using all the functions of this website to their full potential.
Furthermore, if you wish to prevent the collection of data generated by cookies and relating to your usage of the website (incl. your IP address) by Google and if you wish to opt out of such data being processed by Google, you can download and install a browser plugin from the following link http://tools.google.com/dlpage/gaoptout?hl=en. Further details are available at https://www.google.com/analytics/terms/gb.html and at http://www.google.com/policies/privacy.
You can find more information on the Terms of Use and the Privacy Policy at https://www.google.com/analytics/terms/gb.html and at www.google.com/intl/de/analytics/privacyoverview.html.
To allow the anonymised collection of IP addresses, Google Analytics has been extended to include the code "gat._anonymizeIp();", so that IP addresses only undergo further processing in truncated form and data cannot be related to specific persons.
Data collected via the web analysis service Google Analytics are also used by ATS Machinery Limited for the optimisation and improvement of this website.
The legal bases are your consent and/or our legitimate interest in analysing the use of our website and the resulting improvements to our range of services.
Data security
Your personal data is encrypted and transmitted over the internet. We implement the usual recognised technical and organisational measures to secure our website and other systems against loss, destruction, access, modification and distribution of your data by unauthorized persons, yet we do so without being able to guarantee total protection. If we implement personal accounts on our site at any time in the future, access to your customer account will only possible on entering your personal password. You should always keep your access details confidential at all times and close the browser window when you have finished your session with us, especially if you share your computer with others.
Rights of data subjects
As a data subject you are entitled to the following rights:
Right of access
You are entitled to obtain information on the personal data we have stored about you, the length of storage, the processing of data and any recipients of the same. You are also entitled to receive a copy of the personal data forming the subject of data processing.
Right to rectification
You are entitled to require us to rectify any incorrect personal data and to complete any incomplete personal data.
Right to erasure ("right to be forgotten")
Provided that the legal requirements are in place, you are entitled to require us to erase your personal data. If erasure is prevented by statutory retention duties, data processing is restricted accordingly (see below).
Right to the restriction of processing
Provided that the legal requirements are in place, you are entitled to require us to restrict the processing of your personal data, i.e. to mark your data in such a way that they are restricted for processing in the future (and thus blocked).
Right to data portability
Provided that the legal requirements are in place, you are entitled to require us to send the data you have provided either to yourself or to a data controller appointed by you, in which case we will send them as instructed in a standard, structured and machine-readable format.
Right to object to direct marketing
You are entitled at any time to object to the processing of your personal data for marketing purposes ("objection to marketing").
Right to object to data processing where the legal basis is a "legitimate interest"
You are entitled to object to our processing of your data at any time, provided that such an objection has its legal base in a "legitimate interest". In such a case we shall discontinue the processing of your data, unless we can – within the parameters of the law – demonstrate compelling legitimate grounds for further processing, outweighing your own rights.
Right to revoke your consent
If you have given us your consent to the collection and processing of your data, you can revoke the same at any time with future effect. This, however, does not affect the legitimacy of processing your data until the date of revocation.
Right to lodge a complaint with the supervisory authority
You can lodge a complaint with the competent supervisory authority if you believe that the processing of your data has breached applicable law. To do so, you can contact the data protection authority responsible for your place of residence or your federal state or the data protection authority responsible for us.
Contact person
You can contact us directly if you have any questions about the collection, processing or use of your personal data or concerning information, rectification, blocking or erasure of data or about the revocation of any consent you have given. Our contact details can be found in the publication details.
Contact details of appropriate person for Data Protection queries
ATS Machinery Limited
Selehurst Farm, Brighton Road, Lower Beeding
RH13 6NQ Horsham
info@ats-machinery.co.uk Telephone: 01403 891580
Data Privacy Policy last updated: May 2018