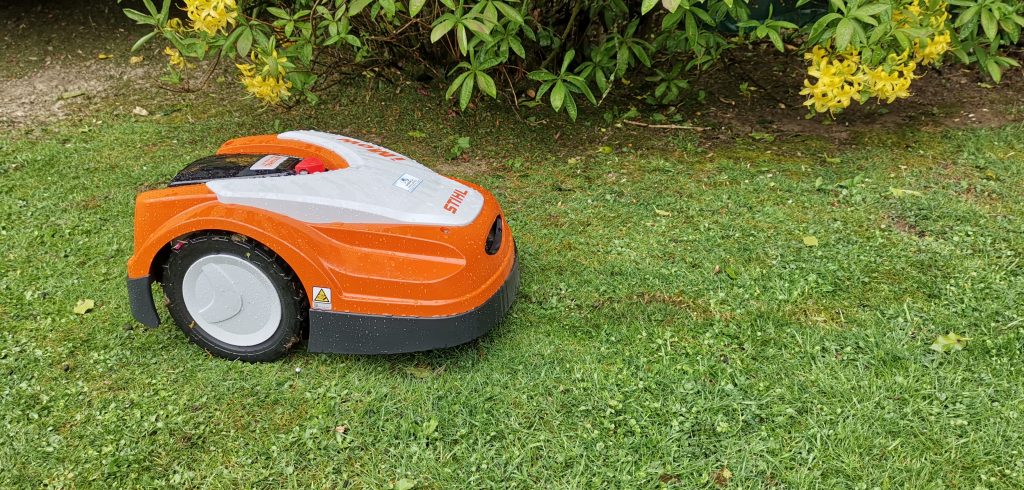 Welcome to
iMow
The iMow is the cutting edge of technology when it comes to fine automatic lawn mowers.
We stock a wide range of the units available and offer a site visit service to make sure your lawn is suitable for the iMow before purchase. We also offer a full installation service with a second site visit to check all is well and to offer any further advice or additional programming to suit your needs.
iMow mows your lawn automatically and according to your needs. The built-in sensors safely react to moving and static objects within the garden, simply moving iMow off into another direction.
iMow will also remember how much lawn has been cut and how much is left of the program. If it has a large area left to mow and the battery is running low it charges it faster. And when it is done working for the day it charges slower and more economically, which helps to prolong battery life and save energy.
Time is precious, especially your leisure time. Enjoy more time surrounded by the beautiful things in life while your lawn is taken care of by iMow, the robotic mower from VIKING.
The iMow robotic mower doesn't just mow the lawn, it also provides fully automatic lawn care tailored to your garden. Extremely fast, easy to use and a lush green lawn.
---
iMow is powered by Lithium-Ion battery technology so there are no emissions or fumes to worry about. The adaptive charging system aligns the charge time with the cutting schedule choosing a slow and gentle charge more often to help save energy.
The great thing about the iMow robotic mower is that it mows and cares for your lawn at the same time. During mowing, it shreds the grass clippings finely, which fall back onto the lawn
acting as an effective fertiliser (known as mulching). Not only does this provide vital nourishment to help grow a thick and healthy lawn, but it also means there are no grass clippings to collect and dispose of.
Come rain or shine iMow keeps mowing until the job is done. Adaptive slope speed technology means iMow can mow inclines of up to 45% with ease. The robotic mower adjusts its speed to suit the mowing conditions, moving slower over long, thick grass or on hilly terrain.
As an iMow dealer, we offer a service to see if your lawn is suitable for the iMow and give a more accurate install costing.
If you would like a site visit to see if your lawn would be suitable for one of the iMow models and you are in our dealer area (Horsham and surrounding area) then please contact us via our contact page explaining your requirements and we will get back to you to make any further arrangements.
Click the contact us button to send us your request for a site visit.
Contact Us
More information on the full range for 2021 to follow soon.